On the morning of 2 June, XJTLU Learning Mall successfully held a panel discussion in terms of education technology.
During the panel, six speakers discussed how to better facilitate the transformation of learning and teaching through the application of technologies in the digital age, and analysed the challenges and opportunities expected to be encountered on the journey of transformation.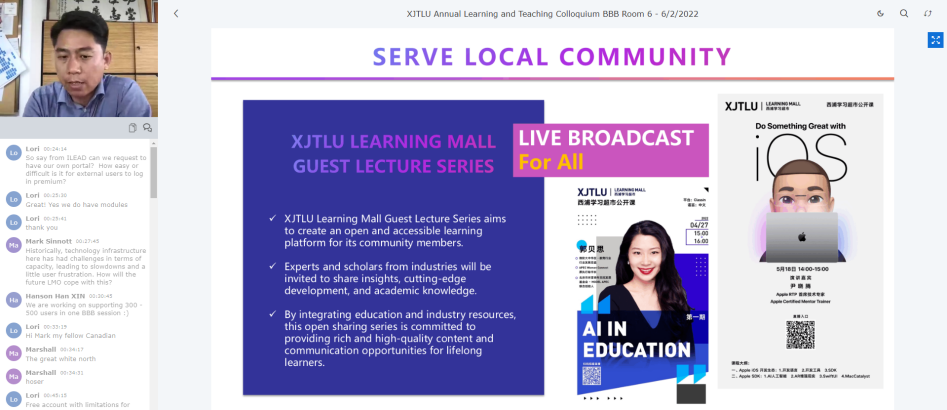 Through the comparison of their educational and instructional experience and practices, along with the reflection on instructional innovation and pedagogical research, the speakers invoked extensive discussions on educational technologies with a focus on the possibilities of future education.
Dr Xin Bi, Director of earning Mall and the University's Centre for Knowledge and Information, introduced the latest progress and future plans for Learning Mall. "Learning Mall is an open community for learners, educators, and innovators around the world, and is providing digitalized content and support for various learner groups from XJTLU students and all walks of life." Dr Xin Bi shared.
Currently, Learning Mall is actively offering abundant quality content to the local community, with experts and scholars from various industry sectors invited to share their academic thoughts.
Dr Bi Xin then previewed the Premium and Core courses that will be released on 6 July at Learning Mall.
At that time, Learning Mall Core will act as the university's learning and teaching management system, providing education and support for XJTLU students and teachers in degree programmes, while Learning Mall Premium will leverage advanced educational technologies and bring together quality educational resources both online and onsite to promote lifelong learning among a broader range of learners.
There are also more new content and features that will be added to Learning Mall in the future.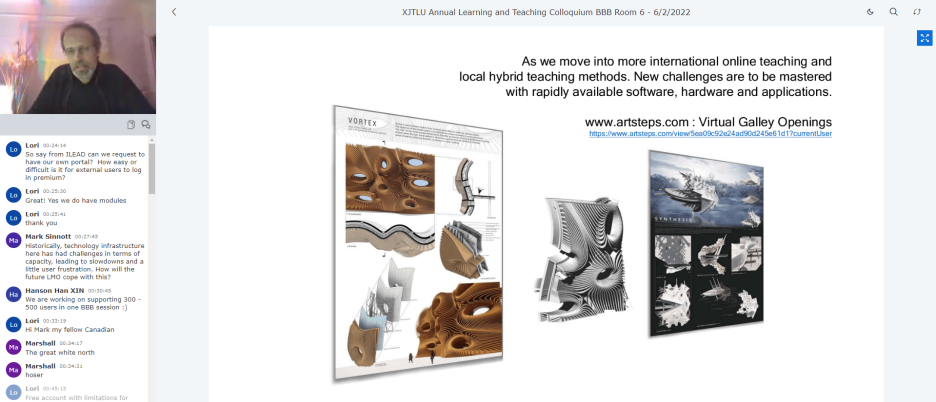 In the panel discussion, Associate Professor Mark Tholen shared his experience of using Miro Software and presented its benefits as an enhanced virtual studio for online teaching.
He said, "The Miro Software is a virtual hosted page or room with desk allocations where students share their creative work. Besides, as anyone with the URL can enter the room at any time, engage and chat with other collaborators, the universal problem of isolation is solved, which is an outstanding limitation of weekly online meetings."
Jiaxin Xu, an EAP lecturer from Xi'an Jiaotong-Liverpool University, shared the versatility of Padlet Software and demonstrated its additional features for teaching and learning environments with the help of Associate Professor Mark Sinnott.
Yina Sima, an Urban Planning and Design lecturer from Xi'an Jiaotong-Liverpool University, shared her feedback for the "forum activity" module on Learning Mall. According to Yina, this module encourages students to engage in weekly reading exercises through an 'exclusive' but 'comprehensive' online learning platform, providing a protected environment where students can freely communicate and share while feeling secure.
Associate Language Lecturer from Modern Languages Centre of Xi'an Jiaotong-Liverpool University, Genying Yan, elaborated on several common problems in the group discussion sessions during synchronous online teaching. She also shared her experience with Etherpad and introduced its advantageous collaboration features for online group teaching.
XJTLU Learning Mall is not only a creative open learning platform but also the hub for innovation, development and entrepreneurship. The panel discussion was held as one of the significant events of the first XJTLU Annual Transforming Education Conference 2022, which was convened from 1 to 2 June .